FAST & EFFICIENT BIOMASS SERVICING
COMMERCIAL BIOMASS SERVICE & MAINTENANCE PACKAGES
To ensure your biomass heating system is correctly maintained, earns Renewable Heat Incentive payments and saves on heating costs, we offer five different annual service contract options.
Each of our service contracts can be tailored to meet your specific needs. Check out our Additional Biomass Services page for the bolt-on options we offer to effectively maintain your heating system.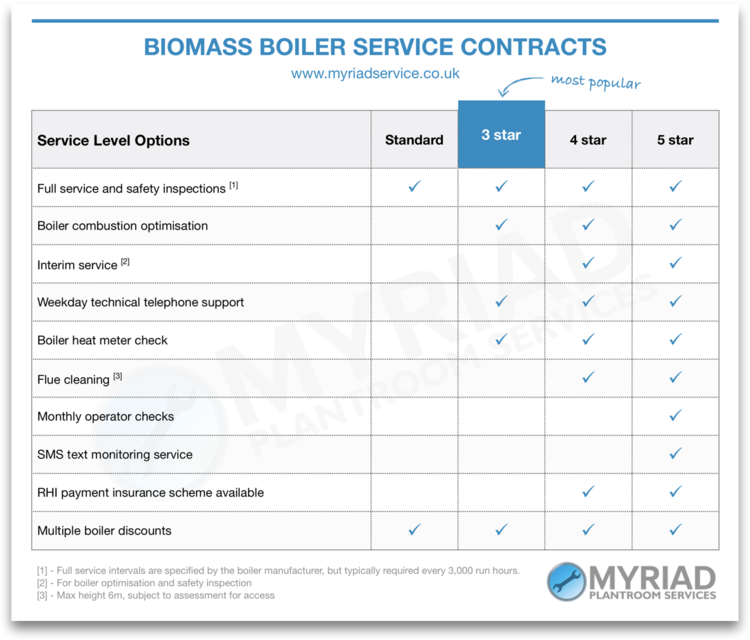 Speak to a friendly expert
Call our service desk to discuss your requirements or request quotation by clicking the button below.
DESCRIPTION OF OUR SERVICE TYPES
FULL SERVICE
Optimum biomass boiler performance and longevity requires one full service annually (or two if annual run times exceed 3,000+ hours.)
Includes:
65 individual checks and tests covering the full system.
INTERIM SERVICE
We recommend an interim service annually to ensure biomass combustion and emission efficiencies are maintained.
Includes:
Inspection and testing of major components. Testing of combustion phases.
Monthly Inspections
We recommended 10 monthly inspections per year between full and interim services for owners without a dedicated operative.
Includes:
Visual inspection of the biomass boiler, ash bins, flue, boiler safety devices and fuel levels.
BENEFITS OF OUR SERVICE CONTRACTS
Energy Efficiency - optimises the biomass boilers performance, resulting in savings of up to 35% on running costs.
RHI - meets all of OFGEM'S RHI service eligibility requirements to successfully claim RHI
Reliability - Prevents boiler and system issues by being proactive and noticing problems before they occur
Longevity - Ensures the biomass boiler runs efficiently for longer by using online approved, genuine parts.
Safety - assures the biomass boiler is operating safely, by checking and maintaining all biomass boiler safety devices
Priority Scheduling - Guarantees a convenient pre-holed service visit and preference to labour dates should a breakdown occur.
Technical Phone Support - Provided quick and expert biomass boiler advice over the phone, from one of our experienced technical engineers, to resolve biomass boiler issues without the need of a site visit.
Spare Parts & Labour Rate Discounts - Delivers percentage discounts on spare parts and labour, depending of the service level option the client has selected.
Renewal Discount - offers the possibility to receive a 5% discount if an existing contract is renewed by the expiry date.